Why camping in Northern Michigan is a MUST!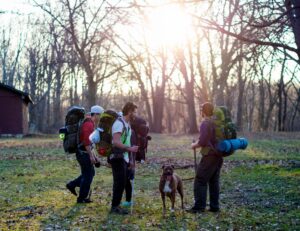 Camping, in general, is an overall exciting experience for you and your family. Jumping at the opportunity to load up the car and double-check you packed all the items, finding the right location is key to a great camping experience.
Where should you go? Is camping all the same at every campground? Locating the perfect campground can be from word of mouth or doing a bit of extra research online to find the right spot.  Most if not all campgrounds are different in one way or another.
But why is camping in Northern Michigan a must? First off, the camping season offers exceptional weather and attractive white sandy beaches for you and your family to enjoy.  Nature within itself offers many resources to you and your family.
Active family? No problem! Many campgrounds are located near water to kayak, boat, or swim or even trails to ride your bikes and/or hike.
Equine family? There are a variety of campgrounds that offer equine camping for you and your horse. Take advantage of events that are offered to enjoy riding with your family or friends.
Relaxed family? This is where Northern Michigan camping can help you and your family to relax, and soak up the beautiful surroundings of trees and nature.
Camping in Northern Michigan is a great way to enjoy what the area has to offer by taking in the beauty of the campground and surrounding areas. Don't wait around and hear from others about their camping adventures, start making some of your own.
The demand for traveling up north is a way to create amazing memories for everyone and is a must!
There are many reasons to check out camping in Northern Michigan. Pack your bags, grab your camping supplies and head on up to camp with us.