Preparing For Camp. 10 Items You Don't Want to Forget.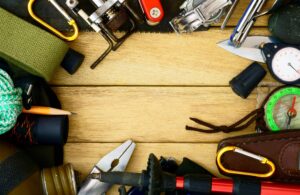 At one point in time or another, we have found ourselves at the campground ready to relax only to realize we had forgotten an essential item. Now you have to jump back into the car, searching for a local store that would offer the camping tools you may have forgotten.  It's ok, we know you want to relax and enjoy your camping vacation.
Let us help with making sure you have the top 10 items listed to prepare for camp. Here are some camping tools that you can benefit from.
WOOD: This is a must, and you don't want to miss out on the joy a fire can bring you at camp. Grab up a few small bundles from your local store or local patron that sells them on the side of the road. Depending on the campground you want to make sure it is ok to bring your own firewood.
BATTERIES: Having batteries can be very useful for your flashlights, radio, or other items that require them. Running to the dollar general you can get a few packs for super cheap. You don't want to be left in the dark.
ICE: Typically campgrounds will offer ice at a cost but never assume that. It's always best to have a few bundles of ice to ensure your food, drinks or perishable items can stay cool and of course, a nice drink on ice helps too.
WATER: Having that H20 makes a big difference for staying hydrated, cooking, washing, and much more. Always have this with you.
HATCHET or HAMMER: You will be surprised how much a hatchet or a hammer can do when prepping a bonfire at camp. Simple cooking sticks can be created by these tools.  Splitting up your wood for your fire can help immensely as well.
WET WIPES: When you are rustic camping, you want to ensure you have a supply of wet wipes. These handy wipes can clean items, wash hands and so much more.
DUCT TAPE: Things break, crack, or need additional support. Duct tape is the way to go and yes…. it fixes everything.
FUEL or PROPANE: This is key to cooking on the griddle, heat resources, and more. Grabbing a few small tanks and a mid-size tank can go a long way when in need.
FIRST AID KIT: You are camping, and you might just encounter a need for a first aid kit. This is a no-brainer when it comes to having kids running around as well. You can easily purchase a nice kit right on Amazon. (Yes, almost everything can be purchased on Amazon).
GARBAGE BAGS: All campgrounds take pride in keeping their grounds clean regardless of if you are in an RV, Camper Trailer, or rustic camping. Keeping your garbage, leftover food and other items picked up can prevent rodents from coming along to grab a snack.
Having a checklist can be very helpful when prepping for camp. Have that list out and ready prior to departing on your adventure.
Looking to make a reservation? Contact us at 231-275-7353.